Athens Chiropractic Healthcare offers the latest trend in massage. The HydroMassage* is a fully customizable, user-friendly massage system that gives users a powerful, heated massage in as little as 10 minutes.  Users remain clothed and comfortably dry throughout their massage. HydroMassage* is a cost-effective alternative to traditional, hands-on massage.
HydroMassage is most commonly used for 12-15 minutes prior to an adjustment or spinal decompression to help with muscle soreness, stiffness, and tension.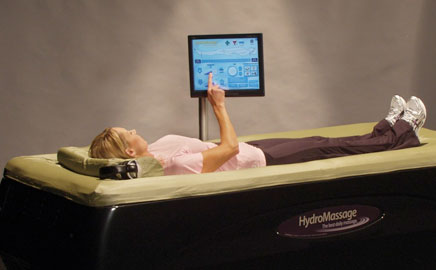 94% of all people who try massage love it.
But, only 1 in 6 people actually get massage therapy each year. HydroMassage appeals to everyone. Especially those who don't typically receive hands-on massage.
HydroMassage is a comfortable, convenient, and affordable alternative to hands on massage. In as little as 15 minutes, HydroMassage provides a powerful massage.
30-minutes for $22
15-minutes for $12
Call ahead for openings and specials! Gift Certificates available.
*Disclaimer: The Hydromassage table is not for persons weighing 300 pounds or more.  Also, please let the physician know if your are pregnant or diabetic.